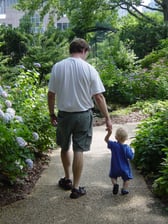 Many of us owe a bit of our gardening and landscaping knowledge to our parents and grandparents. It's not just learning a skill, it's benefiting from their wisdom across the generations. For example, what grew well for them for them, when to plant and how, or what to grow. Perhaps they even passed-along their favorite variety of vegetable seeds.
We hold onto and treasure these gardening memories as we age. Remembering time spent with Dad in the garden, and the taste of fresh grown tomatoes which takes us right back to his garden.
Gardening in Your Father's Footsteps
Armed with their wisdom and knowledge really gives us confidence that we can be successful, too! To this day, I still remember my grandfather's garden and how he grew the best tomatoes I have ever eaten! I can remember saving the seeds so I could enjoy those very same tomatoes. And with great experiences and memories like that, you want to share them with your own kids. That's what this Father's Day post is all about; passing on garden confidence and know-how to future generations.
How Does Dad Give You Confidence in the Garden
How does your dad, stepdad, adoptive dad, granddad or father figure help give you confidence in the garden or landscape? What was the best piece of advice you ever got from him? Perhaps it's his secret soil blend for healthier plants. Maybe his tips on how to prune landscape shrubs. Or using his favorite tools to get the job done. Whatever the case, dads play a big role in how each of us gain confidence, both in our gardens and in daily lives.
Share You Favorite Garden Confidence Tip for a Chance to Win!
Share your story of your inter-generational experience or Father's Day memory of "Gardening with Dad" in the blog comments, below. One story will be selected to win a Corona ComfortGEL+ Extendable Lopper and a ComfortGEL+ Extendable Hedge Shear. These pruning tools are essential for taking care of roses, hedges and trees in the garden and landscape. Both help you to tackle the job, big or small, with confidence while getting the job done easily with comfort and control.
Everyone is free to share their story, however the winner must reside in the Continental US, Alaska or Hawaii. One story will be selected from those submitted to and announced on 6/20/16.
Good luck and we look forward to reading your stories. Most importantly, thank you to fathers everywhere, past and present, who share their gardening confidence for generations to come, season after season.